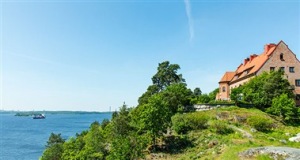 So after the proposal had happened we started to look at locations/venues. We went from Scotland, Porsmouth area and Sweden both Stockholm and the island that we first met Marstrand.

We finally found a place that had all the 3 things that we wanted, sea, nature and somewhere we could have the wedding ceremony and dinner all at the same place. i quickly contacted the venue Högberga and did a request for the venue.

It was in june 2017 when i first contacted the venue and on the 7th of august i was home in Sweden for a quick visit and i managed to go there and see it. IT WAS PERFECT!

Exactly 1 year before the wedding we had the venue locked in! 2018-08-25.

So my main tip for everyone who recently got engaged and you want to get married at a specific venue or/and a specific date should book it as soon as possible. And also try to be flexible with dates if you find your venue that you really want. Dont get your mind set on a specific date be open until you have all your options at hand.

Good luck!