So our wedding! Where do I begin?!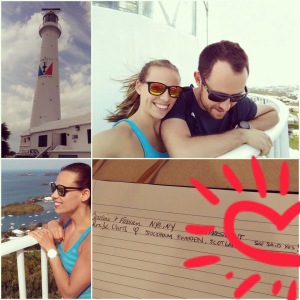 The proposal of course. ;)

Chris finally had a weekend off and we started that weekend with celebrating one of our friends birthday. We lived in Hamilton, Bermuda and we decided earlier in the week to go and see the famous lighthouse. Gibbs Lighthouse.

What we didnt plan on was for us to have a massive night out. hehe... so lets just say that I wasnt that excited about the lighthouse. Yes I was very hungover and Chris had to talk me into going to the lighthouse on our bikes. pedal bikes so pretty much a work out. It was one of the steepest hills that i have ever cycled in my life. And do that hungover not so fun. I was complaining about pain in my legs and i was pedaling without going anywhere, Chris had to give me a push in the back while he was cycling as well. haha!

We got up there and then there was alot of stairs up to the top. And of course we signed the guest book. (she said yes was added on our way out) It was very windy up there and pretty cold. So I was keen on going down once we had seen the view. Chris had a plan of proposing and I went back inside cause I was cold and grumpy/hungover haha!

He called me back out and I joined him just looking out over the Island. Chris hugged me from behind cause I was cold. Then he had taken out the box with ring and held it infront of me, but I was just looking out on the view so he had to tell me;
Sara look down. And there it was. THE RING! of course I said YES and we went back down and made our way back to our house.

Let's just say that I didn't feel that hungover anymore & it was a bit easier to cycle home down the hill at that point. Very happy and excited for our future together.

I will of course post more about the rings later. The wedding planning started straight away...

Where & when? to be continued...
Please leave me a comment: